Toronto residents continue to face an affordable housing crisis, rents are on the rise, and homelessness continues to grow. This year's municipal election is a critical moment for Torontonians to make their voices heard and elect representatives that will work to address their housing challenges.
The Right to Housing Coalition has launched a municipal election campaign to advance the right to housing in the city. We have developed a pledge with a series of rights-based actions that we encourage all candidates to take to better meet the housing needs of all residents.
---
In our Campaign Kit you'll find:
The Affordable Housing Pledge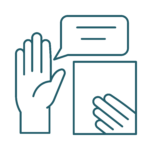 Seven practical steps towards making Toronto a fairer and more equitable city for ALL.
---
We urge all candidates to take the pledge and commit to advance the right to housing for all Torontonians.
We invite all community groups and organizations to use this kit in their advocacy work for the municipal election, so that together we can amplify the practical solutions that our elected officials must take to address Toronto's affordable housing crisis.
---
Learn more about the right to housing
---