Home is at the centre of human rights. Without a safe, affordable, secure, and accessible home, our other rights such as dignity, privacy, freedom of expression, equality, liberty, security of the person, and even life, are threatened.
The City of Toronto has taken a step towards recognizing housing as a human right through the development of its new HousingTO 2020-2030 Action Plan. This plan, like the National Housing Strategy, is based in human rights.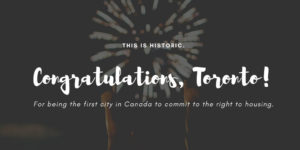 On December 17, 2019, Toronto City Council became the first city in Canada to recognize the right to housing by adopting the human rights-based 10-year housing and homelessness plan.
Thank you to everyone who helped up get here!