The City of Toronto officially recognized that housing is a human right through the HousingTO 2020-2030 Action Plan, Toronto's 10-year housing and homelessness plan. We are hopeful that this major step will lay the foundation for more progressive and effective housing and homelessness policies in Toronto, that prioritize the most vulnerable and put human rights at the centre of decision making.
Of course, we know the work is not over yet. We have a lot ahead of us and we'll keep you updated on progress, emerging issues and solutions, as well as new resources.
UPDATES
In implementing changes to their Rules of Procedure, the Landlord and Tenant Board (LTB) has the opportunity to better align these Rules with the human right to adequate housing. Swift action to ensure this alignment has never been more necessary than right now, when tens of thousands of Ontario tenants are facing lost income, rental arrears, and the risk of eviction. The Right to Housing in Toronto urges the LTB to enact changes to their Rules of Procedure to protect tenants' security of tenure, preserve affordable housing and ensure that rental housing is safe and healthy.
The Right to Housing Toronto provided a submission to the Ontario Legislature Standing Committee on Social Policy.
The Right to Housing Toronto has distilled international and domestic human rights principles into advice for the City of Toronto about how to ensure its housing and homelessness-related COVID-19 responses are grounded in human rights. You can read the full recommendations here and the summary here.
The Federation of Metro Tenants' Associations (FMTA) has compiled updates from service providers in the City of Toronto that often provide tenant or housing services.
Right to Housing in Toronto deputed at the Committee of Adjustment to offer information about the City of Toronto's commitments and obligations vis-à-vis the right to housing, in order to support and inform their decision in the application regarding 233 Carlton.
The City of Toronto has taken a step towards recognizing housing as a human right through the development of its new HousingTO 2020-2030 Action Plan. This plan, like the National Housing Strategy, is based in human rights.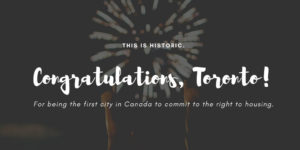 On December 17, 2019, Toronto City Council became the first city in Canada to recognize the right to housing by adopting the human rights-based 10-year housing and homelessness plan.
Thank you to everyone who helped up get here!
This webinar will help guide you through where we've been and where we need to go in housing in this country, and will provide you with some tools to ask important questions of your federal candidates, members of provincial parliaments, and local Councillors.