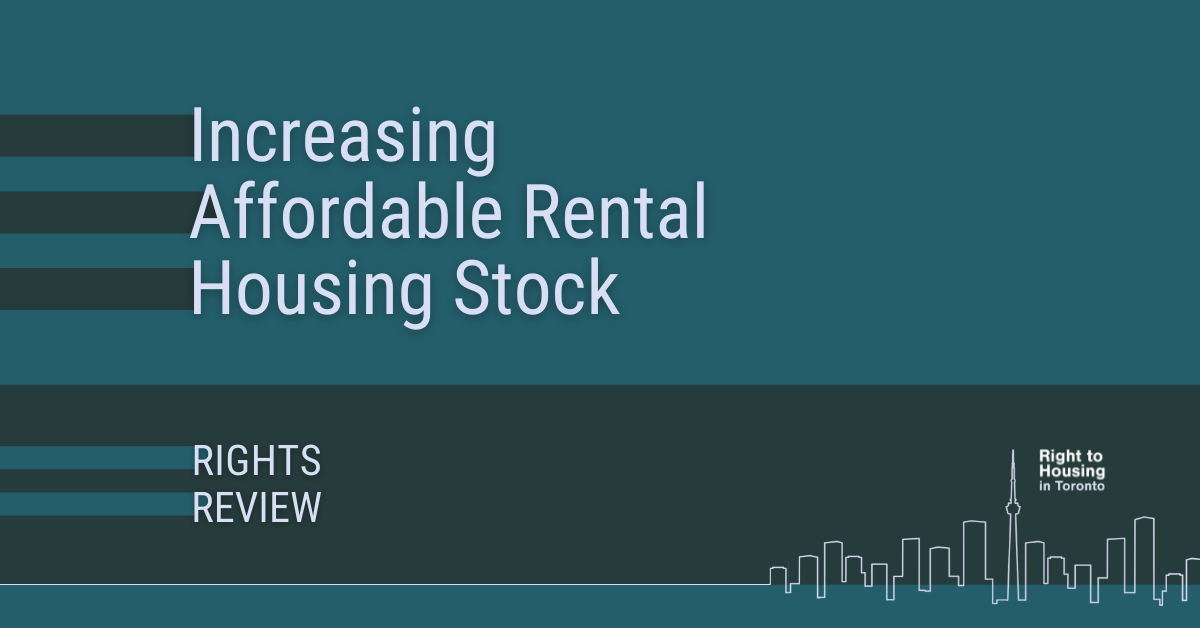 Toronto has experienced a housing boom over the past few decades, mainly in the form of new condominiums that are out of reach for many of the city's residents living on low- to moderate-incomes. The supply of affordable rental housing options remains alarmingly low despite the City of Toronto's commitments to the right to housing recognized in its Housing Charter and its 10-year housing plan.
The asking price of a one-bedroom rental unit in Toronto has risen by almost 10% over the course of the last year, which is the steepest increase across the country. Indigenous peoples, seniors, young people, lone parent families, Black households, racialized communities, newcomers, people with disabilities and many more are struggling to afford to live in this city. They face significant hardships in finding and keeping a home. The inability of many residents to sustainably pay rent without disruption is also at odds with their need for tenure security, a vital component of the right to housing. Many of Toronto's low-income residents face the risk of eviction and homelessness.
It is the responsibility of all levels of government to create more affordable housing supply. Both federal and provincial governments have financial resources that they can marshal to directly fund construction or provide loans and incentives to help local governments and other housing providers to create more affordable housing. The province can also leverage its jurisdiction over municipalities to empower them to create more supply through enabling legislation and regulations.
The City of Toronto also has a mix of tools to increase the housing supply. However, its fiscal resources are limited – notably, a combination of property taxes, licensing proceeds and user fees fund an increasingly complex set of urban services, including creating and managing affordable housing stock. In addition, it can use incentives such as exemptions from various development charges and planning instruments such as zoning to ensure new housing supply is affordable. As Toronto's population continues to grow, so will the demand for affordable rental options. A comprehensive response to increasing the supply of affordable rental housing in Toronto is therefore needed – one that is rooted in a rights-based approach that considers the needs of all residents.
Our Rights Review on Increasing Affordable Rental Housing Stock examines many of the City of Toronto's efforts to increase affordable housing options. It also showcases insights from civil society on the effectiveness and shortcomings of these initiatives. Through a rights-based approach, practical recommendations are offered to guide the City's policies to ensure low- to moderate-income Torontonians can access affordable places to call home.
Read the report:

Recommendations to the City of Toronto
---
R2HTO will also publish a Rights Review on protecting the affordable housing stock that is equally important in solving the housing affordability crisis.
→ Subscribe to receive all of our upcoming Rights Reviews