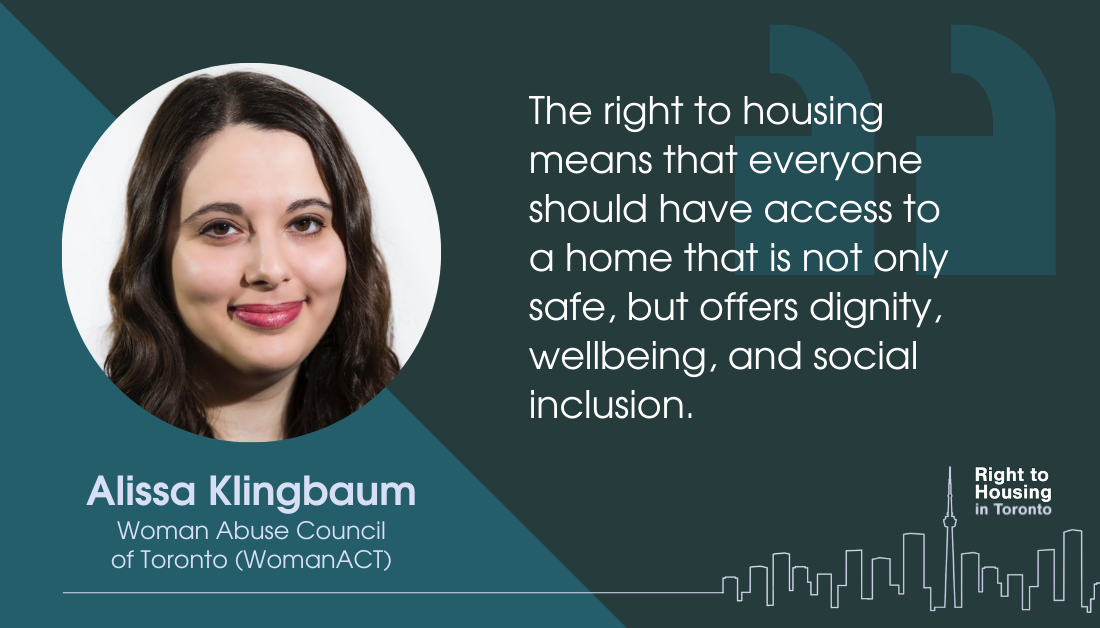 What does the right to housing mean to you? 
Home is not always a safe place. For women experiencing violence, we often consider housing needs to be met when survivors are free from violence. The right to housing represents an obligation and an opportunity to expand this idea. It means that everyone should have access to a home that is not only safe, but offers dignity, wellbeing, and social inclusion. The right to housing gives us the tools to understand why many of our existing housing options are not adequate. If they are not affordable, not secure, or do not allow access to employment and amenities, then they are not meeting the basic standard of housing that our governments have recognized. 
What is the #1 thing that Toronto City Council must do to advance the right to housing this year?
To advance the right to housing, the City must expand the housing options it provides for women experiencing violence at home. Current approaches that expect survivors to leave home to reach safety cause profound disruptions to women's lives and violate their right to housing. When survivors are forced to relocate to precarious housing, like shelters or staying with family or friends, it exacerbates their economic insecurity and often leads to homelessness or returning to a violent situation. 
Safe at Home programs are an evidence-based approach to address these issues. Using a combination of legal orders, home security measures, and wraparound support services, they enable women leaving violence to remain in their home with the perpetrator removed, or to move directly to independent housing. These programs have been widely implemented in other countries, where they have been found to improve safety and wellbeing, prevent homelessness, and reduce incidents of intimate partner violence. City investments in Safe at Home programs would be an important step forward in realizing survivors' right to housing.