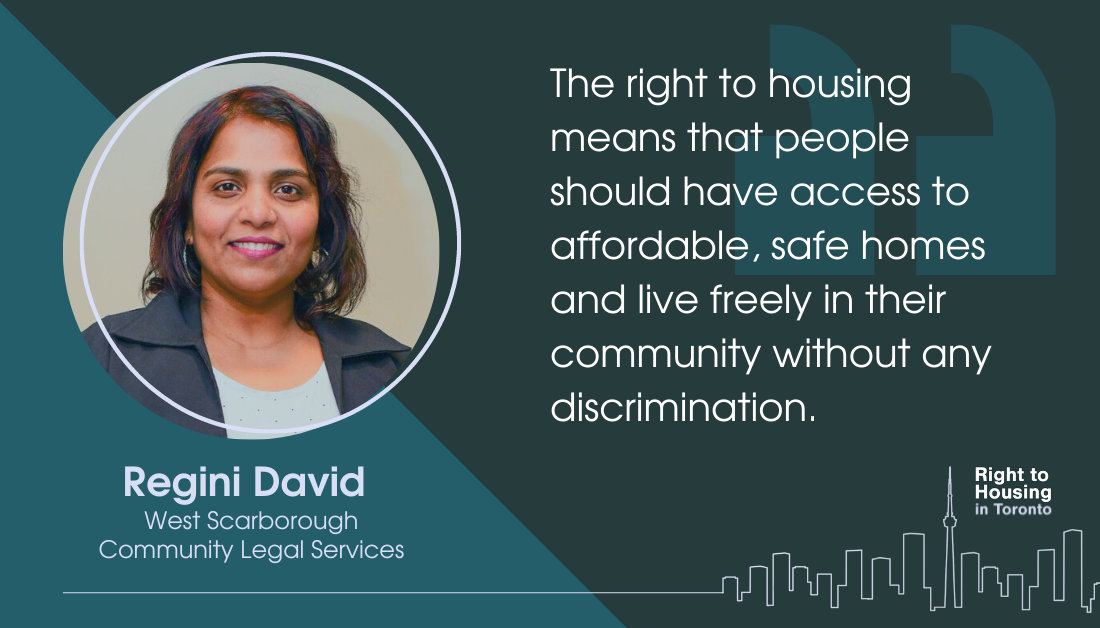 What does the right to housing mean to you?
The right to housing means that people should have access to affordable, safe homes and live freely in their community without any discrimination. Policies and regulations should be designed by using a human rights lens to treat all tenants equally. Housing policies from the municipal, provincial and federal levels should help to prevent eviction and provide support to the most vulnerable tenants to prevent homelessness and reduce poverty.
What is the #1 thing that Toronto City Council must do to advance the right to housing this year?
The City must legalize Multi-Tenant Housing (rooming houses) and protect all tenants equally throughout the city.
Toronto has an affordable housing crisis; hidden homelessness and rooming houses are increasing in our neighbourhoods and across the city. We need affordable rooms in every part of the city, and the people who live in rooms outside of the downtown core deserve the same legal protections as their downtown counterparts, where rooming houses are legal.
It is a good step that the City has been working on its HousingTO 2020-2030 Action Plan. However, this housing plan will take time to implement. It has not addressed the immediate needs of vulnerable tenants, and many of the housing projects are not deeply affordable for low-income individuals. The City should not only create more deeply affordable homes; it should preserve the deeply affordable homes that already exist to address the current needs and realities of low-income individuals and to prevent homelessness. The City has heard from the community on the importance of legalizing multi-tenant houses as this matter has gone through multiple studies and consultations in 2013, 2015, 2017, 2020 and 2021.
It is time for the City to address and prioritize the concerns of unsafe and unprotected conditions that lower income tenants are living in. All tenants should have access to affordable homes and to freely choose to live near their community, temples, churches and mosques without any barriers. In addition, decision-makers should recognize privilege and power to balance the needs of all when working with residents and in their projects.